L&F Eyecare, community Optometrists
since 1934
L&F Eyecare was started with Warrgual pratice, which is still going strong today and for over 40 years L&F Eyecare has been providing the Gippsland community with quality eyecare and a range of eyewear options.
Timeline of L&F Eyecare
Pound, 1934
Philip Pound founded the Warragul practice in 1934 in what was the centre of Warragul near the corner of Smith and Queen Streets. Pound's consulting room was curtained off from the rest of the premises and lenses were ground down by hand on sandstone at the back of the rooms.
Sutherland, 1958
In 1958, Donald Sutherland, an English optometrist from Upper Beaconsfield took over the practice. Sutherland was also a Magistrate at the Richmond Court, and the longest serving magistrate ever in Victoria. A gentleman, Sutherland was tall and solid with white hair and a pencil line moustache. He manufactured a patented lens cleaning solution that he offered his patients – a superior product to anything else available on the market.
Watt, 1962
After completing a Bachelor of Applied Science (Optometry) in 1958 and a Master of Science thereafter, Geoff Watt committed himself to his great love, running. Trained alongside Herb Elliot by Percy Cerutty, Geoff's distance running took him around the world, up snow-capped Mount Kilimanjaro and down again. Watt renovated the Warragul practice and employed a full-time receptionist. For a short time, he also began a part-time practice in Korumburra and purchased a practice in Moe.
In 1969, on a particularly cold day when snow fell in Melbourne, Watt saw his last patient mid afternoon and undertook a training run up Mount Erica.
When it had been dark for several hours that night, his pregnant wife Kathleen and their three young daughters knew something was wrong. Watt's snow covered body, dressed in just running shorts and a singlet, was found lying on a flat rock some distance from the track. In the freezing conditions his death at the age of just 37 years would have been mercifully quick. Kathleen gave birth to their forth child four months after Geoff's death. Their eldest daughter Kathryn, now better known as Kathy Watt, went on to become a celebrated Olympic gold and silver cycling medallist.
Gartner, 1969
One of Watt's contemporaries, Wolf Gartner took over the responsibility for the practice and became the principal optometric adviser. Several locums including Terry Blake, Bob Morris, Ann Lamont and Ian Wheeler, a fellow distance runner worked with Gartner during this period.
Leunig, 1969
In 1969, Kathleen Watt invited Geoff Leunig to join her in partnership at the practice. Leaving Melbourne for a more rural life, Leunig started work the day after his registration. This partnership lasted until 1975 when Kathleen left the practice, leaving Geoff as sole owner. 1975 also saw the practice move to new larger premises in Warragul. The workshop was transferred from Moe to Warragul, and in 1978 the Moe practice was expanded into adjoining premises, giving two consulting rooms in each practice.
Leunig & Farmer – Optometrists Pty. Ltd, 1979
Leunig and Farmer – Optometrists Pty. Ltd. came into existence on the 1st July 1979 after John Farmer had been employed for eighteen months (directly from University). In November 1982 they further expanded the existing premises, buying an old house and land in Barkly Street, Warragul, and erecting a building with three consulting rooms. This was the start of what was to become a great period of expansion and growth for the practice.
The Drouin practice was then opened at 29 Princes Way in September 1990 at the instigation of the Warragul staff. In mid 1997 the practice was moved to a new building at 28 Princes Way where there were three consulting rooms and a conference room.
In 1986 they purchased a practice in North Melbourne, which they subsequently sold in 1990. The practice at Anzac Street in Moe was renovated and moved into in February 1990 having outgrown two practices in Albert St, Moe. This location remains the current Moe practice today. Both Warragul and Moe were given an optical workshop and a separate room for computerised field assessment.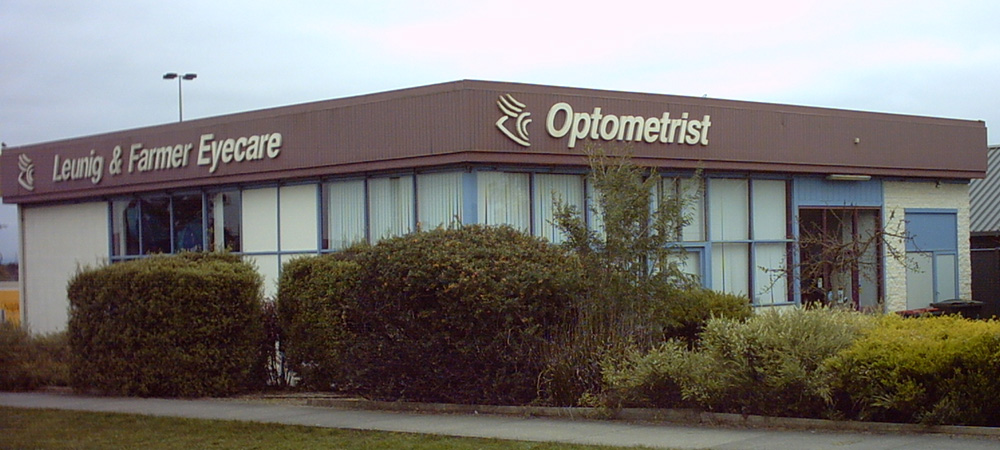 Moe Practice 2006
Leunig & Farmer Eyecare, 1996
Leunig and Farmer – Optometrists Pty. Ltd. became Leunig & Farmer Eyecare in 1996. Further to this, the Pakenham practice was purchased from Kaye McCraw in 2001. This practice was relocated in 2004 to 144 Main St where it stands today.
L&F Eyecare today
In 2013 the practice was renamed L&F Eyecare to retain the historical significance of the name but also to reflect some changes within. New leadership with the same commitment to patient care and continuous improvement.
A new brand was developed to move the practice into a new era and to better represent the familiar faces who make the L&F Eyecare what it is today – warm, professional, leading edge and remaining true to our mission to uphold the highest standard of optometric care.